UZOMA DOZIE, KELECHI AMADI OBI, BAYO OMOBORIOWO, STUDIO 24 BOSS AND OTHERS SET TO SPEAK AT THE
BUSINESS OF PHOTOGRAPHY CONFERENCE 2019 
Announcing our Second set of panellists. The Business of Photography Conference is scheduled to hold on Tuesday, April 30, 2019 at Landmark, Event Center, Lagos. It promises to be bigger than the maiden edition. The maiden edition which took place on Tuesday, April 24, 2018 opened its doors to over a thousand participants who learnt all about the basics of the business of photography, the challenges and the solutions as well as access to microfinance to scale in business.
This year's event doors will open at 8 am and end at 9 pm. The conference would feature five segments; the Opening, the Conversation (panel session), Break out time (master classes), Cocktails/Networking and Exhibition. During the conversation segment, attendees would have the opportunity to listen to and chat with award-winning Nigerian photographers about the future of photography in Nigeria.
Uzoma Dozie, CEO of former Diamond Bank PLC, is not only an inspiring leader but also a remarkable individual.
He is known for his calm demeanour as well as his multi-tasking abilities and an eternal yearning to learn more.
Known for his down to earth approach, Mr. Dozie began his journey with Diamond Bank in 1998 and since then he has played several roles with utmost perfection.
He started working there as an Assistant Manager and Head of the Bank's Oil and Gas Group, where he expanded the Bank's Oil and Gas businesses.
Mr. Dozie used his strong background in Retail Banking, Management, and Organizational Behaviour to set up the Personal Banking Group at the Bank.
Combining his passion for technology with his insights and operational expertise, he fostered a culture of innovation at the Bank. He resurrected e-banking and introduced Diamond Mobile app. He also launched Diamond Y'ello which offers a safe and easy means of opening and operating a full bank account from the convenience of MTN Mobile phones.
Mr. Dozie believes that the success of retail banking lies in its convenience; accessibility and cost-effectiveness for the customers.
Kelechi Amadi-Obi, after obtaining a law degree and his call to bar in 1993, settled to full-time studio art. He has earned international renown for both his photography and paintings. His unique style and mastery of aesthetics and creative lighting in his paintings have been reinvented in his photography to create understanding, dynamic and result oriented photography for his clients.
Some of his works have been featured in exhibitions within and outside Nigeria. These include; 2006
"Snap Judgement" – New Position in Contemporary African Photography, International Centre of
Photography, New York, USA,2005 "Depth of Field" South London Gallery, UK, 2004, "Lagos" Ifa Gallery, Stuttgart, Germany, 2003 "Transferts" Africalia, Brussels, Belgium. In 2004, he won the St.Moritz Style Award for Photography.
Some of his clients include Guinness Nigeria Plc, MTN Nigeria Plc, PZ Nigeria Plc, British American Tobacco, The Ford Foundation, PrimaGarnet Ogilvy, SO&U, InsightGrey, Nigerian Flour Mills and Orange Drugs Nigeria
George Okoro is a renowned and award winning photographer in Nigeria and the publisher of George Okoro Weddings and Lifestyle magazine. His portfolio ranges from weddings across the globe covering countries like the UAE, UK, Gambia, Ghana, Liberia, Spain, Italy and of course across most of the states in Nigeria. In 2016, he was nominated for the prestigious Future wards for "business professional of the year" and in 2018 he won the award for "Event Photographer of the year" by association of events and party planner of Nigeria. His work has been published in several magazines and journals in Nigeria and the Diaspora. His career extends beyond photography, after his published the first edition of George Okoro Wedding and Lifestyle magazine in 2017. A magazine designed to celebrate and foster growth and collaborations in the event and wedding photography space. George Okoro believe that for the industry to continue on the growth path, creatives need to start thinking like businesses so we can attract the right attention and investment needed to achieve exponential growth.
Obi Somto was born on August 1, 1988, in Lagos, Nigeria, Somto has always been art inclined – to draw, paint, mould and carve. After he discovered Photoshop and Fireworks, he launched his career as a graphic designer and illustrator, and has been shooting professionally since 2010.
He brings a unique blend of experience, vision and distinction to his style of photography. He has been commissioned by several top advertising agencies with clients like First bank, Etisalat, Union Bank and Virgin Atlantic. He has photographed several Nigerian celebrities and dignitaries and has become a go to name for portraits in Nigeria
He holds a degree in Banking and Finance from Babcock University.
A graduate of Pure and Applied Chemistry from the University of Lagos, Bayo Omoboriowo is a professional photographer. His unwavering passion for development influenced his involvement in the genre of photography he simply calls 'Reality Photography'.
Bayo believes the pictures he takes today are materials of communication for tomorrow. This drives him all around the Africa and beyond as he tells the story of everyday reality. His works have been widely published and with his series on Nigerian Unsung Heroines which was featured on CNN, he is on a mission to celebrate exceptional people contributing to the development of Nigeria.
An inspiration to young Nigerians, Bayo has trained many aspiring photographers and mentors several award winning photo artists. He has been part of various workshops, conferences and programmes where he has impacted countless numbers of lives using photography as a channel.
He is presently the Personal Photographer to the President of the Federal Republic of Nigeria, President Muhammadu Buhari.
He has won many awards, including Sundance Institute Short-film Challenge 2014, the MTN Afrinolly Short-film Competition 2013, and the Future Awards Creative Artist of the Year 2012.
He is the author of Buhari: A New Beginning and Curator of Lagos: A City in Progress which was used in celebration of Lagos at 50 and is on his journey to his 3rd book project.
Ijeoma Balogun is an award-winning journalist, relationship builder and the Founder/ CEO of Redrick Public Relations, a PR agency specialising in designing and executing strategic integrated campaigns that support enterprises and start-ups to innovate, accelerate and grow. Redrick PR past and present roaster of clients consist of government agencies, international corporations and SMEs such as: Viber, BAV Consulting (a unit of the WPP Group & Forbes Global 2000), We Connect International, The Federal Ministry of Trade & Industry, The Federal Ministry of Communication & Technology, Jumia Nigeria, Style House Files, Terra Kulture, Food PRO, SO Fresh Ltd. to mention a few. In 2016, Ijeoma Balogun brokered a strategic partnership with Celebrity Services Africa (CSA.Global).

In May 2018, She gave a TEDx Talk at the TEDxBellsTech event. Ijeoma is an honours graduate of Global & Integrated Marketing Communications from the American University of Paris, France and holds an Advanced Certificate in CSR & Sustainability from the London School of Public Relations.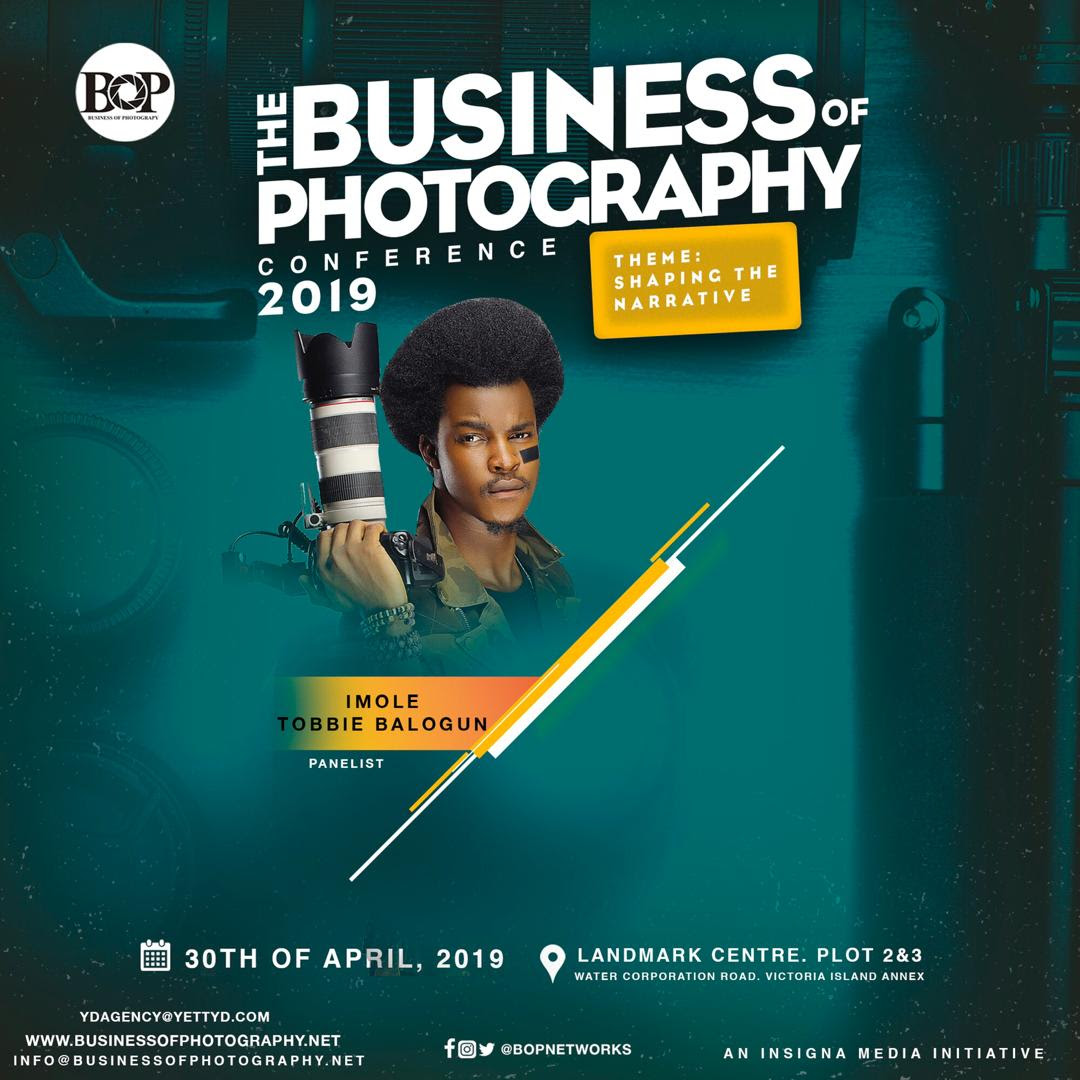 Imole "Tobbie" Balogun is an award winning Lagos based photographer. After studying Graphic design and Digital Film Making in school, he ventured into professional photography full time.

Tobbie is the lead photographer at TCD Concepts. His areas of interests range from Music to Fashion, Food, Documentaries, Lifestyle and Traditional portraiture.

His mission is to merge technical proficiency with aesthetic intuition to produce rich, beautiful and effective high quality photographs suitable for print, web and other platforms. He delivers his services with a personal approach and a genuine interest to deliver and enhance the marketing power of his client's future.

Tobbie's broad capabilities and diverse range of style have allowed him provide creative services for a wide array of clientele, ranging from private individuals to public companies. He's worked on projects for Celebrities, Fashion and corporate clients and a host of others.
Engr. Ifeanyi Christopher Oputa is the MD/CEO of COLVI LIMITED which is an umbrella company for STUDIO 24, KODAK EXPRESS CENTRE, TWINKLE STAR IMAGING & PHOTOGRAPHY SERVICES LTD, STYLE SQUAD Other businesses have thorough knowledge of the digital imaging industry & related fields and is a seasoned property developer. His extensive experience, strong leadership capabilities and entrepreneurial vision help make COLVI LIMITED the successful and internationally recognized organization it is today.
Engr. Oputa has built this organization from its inception over 27 (twenty seven) years ago with just a few team members and one outlet to having over twenty working outlets and 5 (five) upcoming outlets nationwide currently employing well over three hundred (300) skilled team members. Studio 24 is a company that has reached international recognition as it has rendered services to very high profile events.
Lucky Idike is a  graduate of Economics from the University of Lagos. He is also a fellow of the Institute of Chartered Accountants of Nigeria.
He has garnered over 25 years of experience in the professional services and retail (fast food and garments) sectors, in roles that span Executive Management, Financial Consulting, Strategy and HR Consulting, Accounting, Audit and Taxation.
A proactive thinker and strategist, he is a great writer and communicator.
Lucky is the Chief Executive Officer of the firm LOI PARTNERS LIMITED.
Tolani Alli is an acclaimed documentary photographer whose images and stories have been featured on BBC news, World Press Photo, The Guardian (U.K), The VII Agency and more. She was recently commissioned as a freelance photographer by The Guardian (U.K) on a special report on the women in the Niger Delta. Additionally, Tolani was the first African enrolled in the debut of World Press Photo Noor Images and Danish school of Photojournalism/ Media Documentary Program, which she completed with honours.
Tolani currently is the photographer to the Governor of Oyo, one of Nigeria's most notable states.
While this role has historically had female representation, she battles hard to push for more gender equality and prides herself as a proponent of equity in her profession.
A Distinguished Alumni of The University of Michigan, She credits her photography journey to a chance of interest in a camera after watching an Aston Kutcher Nikon commercial while battling a grave illness. As her true passion for photography emerged, she transformed from being medical school bound to becoming obsessed with photography and telling her stories with lens.
Tolani Alli continues to be a trailblazer and unapologetic in redefining what it means to be Nigeria, American and global citizen. In the delivering keynote presentation at the world.
Colette Otusheso is an experienced, value-driven marketing, communications and project management professional with a proven record of championing organizational wide initiatives within cross-functional teams.
Colette has worked with well-established global and local organizations including VIACOM International Media Networks Africa and MNET Africa. She was instrumental in the successful launch of several Africa Magic channels across several African countries as well as the marketing of MNET's Tinsel, Big Brother Africa and other MNET shows. Whilst at VIACOM, Colette spearheaded major MTV, Nickelodeon and BET projects in Nigeria including the MTV Africa Music Awards (MAMA's), The MTV Africa All Stars and the MTV VJ Search.
Colette is currently the Head of Accelerate. A digital content platform owned by Access Bank, specializing in online content creation around lifestyle programming.
BECOME A SPONSOR
As a Corporate Sponsor or Partner of the BOP Conference, your company, large or small, will be supporting a great initiative. We offer various levels of event and national sponsorships allowing you and your company to customize your level of support.
Get In Touch Here.