LLF DIGITAL DAY 1 RECAP

Yesterday, we kicked off the first-ever virtual Leather Fair in Africa! 
It started off with a warm welcome address from the Founder, Femi Olayebi, who shared the journey to LLF Digital.
 Click to WatchThe 3D Virtual Exhibition is live ALL DAY, EVERY DAY for retailers and buyers who are interested in stylish, authentic and exclusive leather products
.


Visit Exhibition
Following this was a panel discussion titled Straight Talk: Where is the Leather Industry Headed? Some of the highlights from this session were: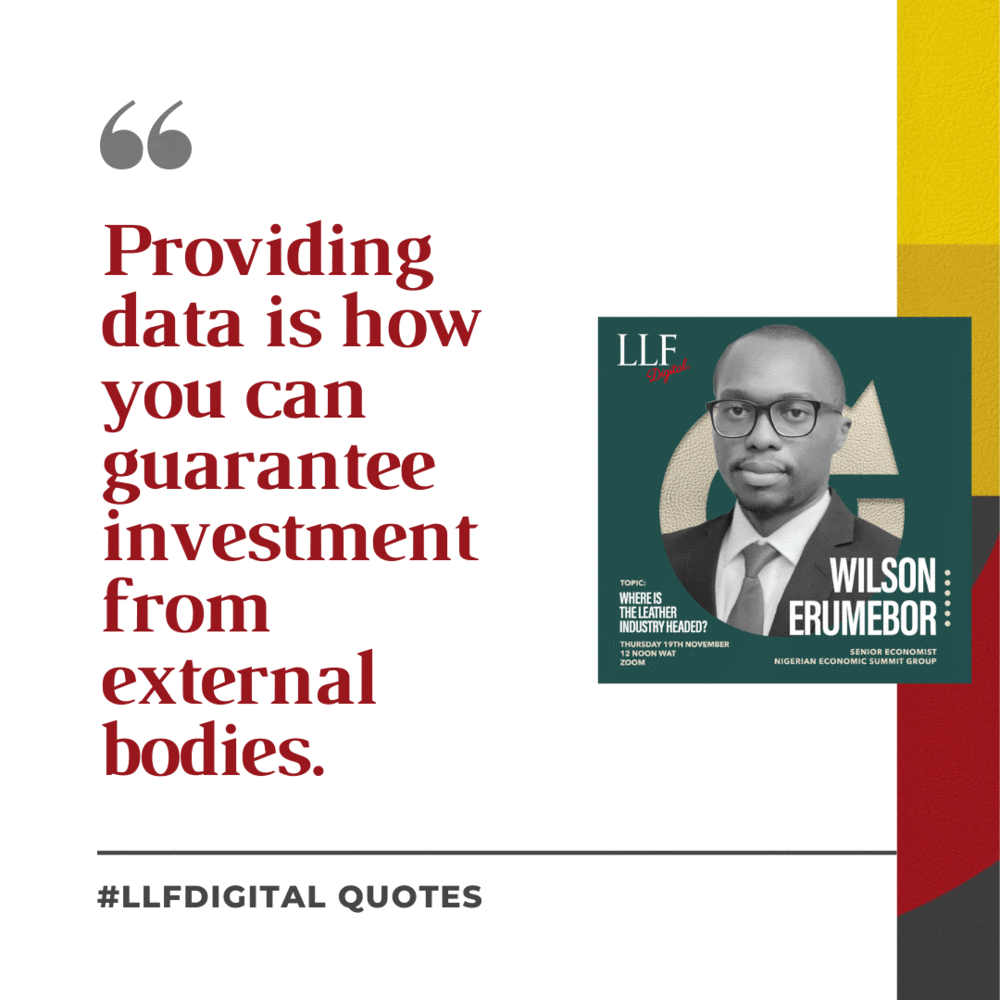 At 2pm, Baboa-Tachie Menson shared her knowledge about the relationship between technology and fashion.15-MINUTES WITH BABOA TACHIE-MENSON, CEO, BALMLABSWatch the recap of the 15-minute masterclass on YouTube to catch all the tips and tricks from Aisha Ugah's class on the art of colouring leather.15-MINUTES WITH AISHA UGAH, CREATIVE DIRECTOR, NICHOLE BY HAGUANNA as promised, here's today's schedule:


12 Noon (WAT): Finding A Balance Between Creativity and Sustainability
This conversation will require the speakers to discuss the importance of putting in place proper business structures in order to remain sustainable as a creative brand.

Moderator: Rukky Ladoja, Creative Director and CEO, Grey Projects.

Speakers: Femi Olayebi, Chief Creative Director, FemiHandbags.Adenike Adeyemi, Executive Director, Fate Foundation.Gilles Acogny, CEO and co-Founder, Acosphere Ltd.Lanre Da-Silva, CEO/Creative Director, Lanre DaSilva Ajayi Couture. 
2:00 PM (WAT): 15 MINUTES WITH HANKER+REECH: Hand-stitching to Perfection

4:00 PM (WAT): The Fundamentals of Product Designs and Development
This Masterclass will teach the basics of the conceptualization, design and development of a product.

Moderator: Lani Adeoye, CEO, Studio-Lani.

Speaker: Prof. Yvonne Watson, Associate Professor & Director of Academic Affairs, Parsons School of Design.
Register for Day 2